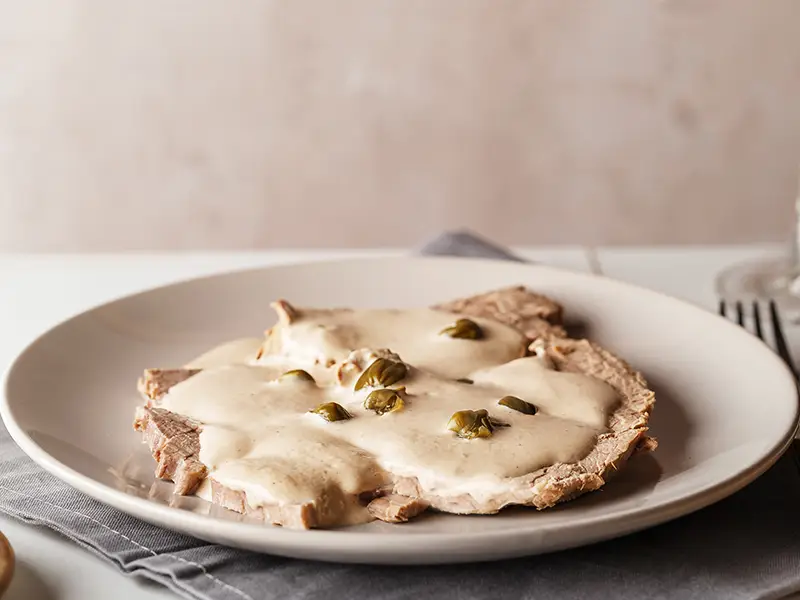 The origins of the dish
Vitello Tonnato, or as it was called in the past Vitel Tonné, appeared in the kitchens of Piedmontese restaurants since the 1980s, but the recipe has much older origins.
The first version dates back to the eighteenth century, when it was a popular poor dish cooked with leftover meat.
Today's Piedmontese recipe has spread throughout northern Italy thanks to Pellegrino Artusi who in 1891 described it in his cooking manual "Scienza in cucina e l'arte del mangiar bene" (Science in the kitchen and the art of eating well).


The Arrival of the Tuna
The very first recipe for vitello tonnato included a sauce based on anchovies and oil as a condiment. The term tonné probably refers to the French tanné, meaning tanned.
The use of tuna is due to the recipe introduced by Pellegrino Artusi, who includes it among the ingredients together with capers and anchovies. Mayonnaise, on the other hand, has spread since the Eighties, a period in which this ingredient became fashionable and began to be used in many dishes.


The Exaltation of Taste
Generally served as an appetizer or second course, Vitello tonnato is perfect as a summer dish to be served fresh, perhaps accompanied by a dry but at the same time delicate white wine such as Asti Spumante.