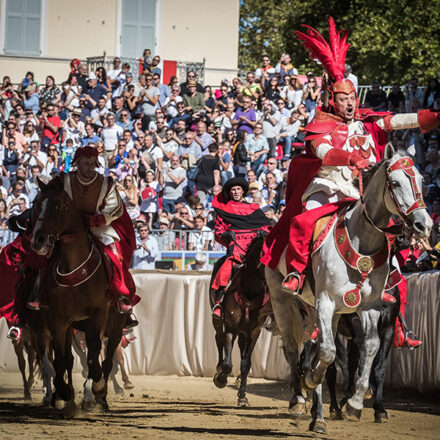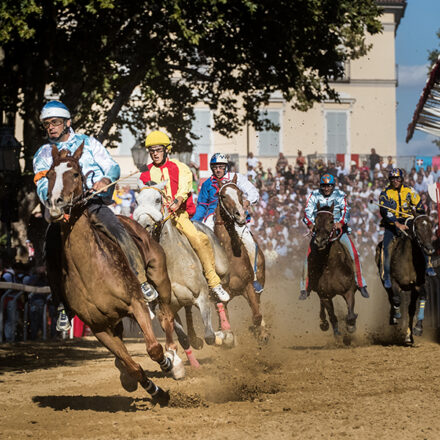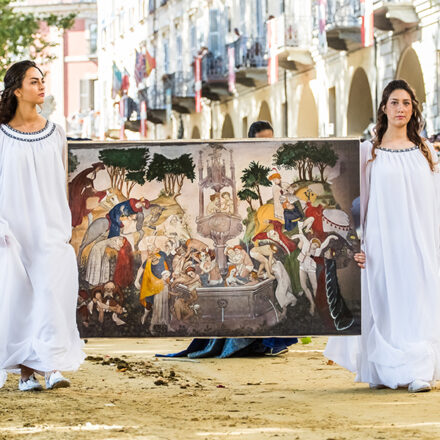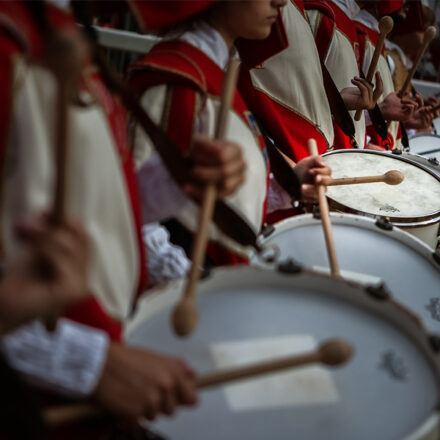 It is the Captain, on the track, who asks the Mayor for permission to run the Palio.
The race, on a circuit in Piazza Alfieri, is the most exciting moment.
Twenty-one horses mounted bareback by twenty-one jockeys chosen from the districts, hamlets and municipalities of the city of Asti and its territory, all contending for the victory, no holds barred. Three heats of seven participants and, in a crescendo of tension and fatigue, a final with nine jockeys. A start for alignment with the rope, a starter to regulate the start, the Captain of the Palio to watch over the race.
Then, in a few seconds, the game is done! Whoever wins celebrates by raising the prize (Palio), whoever loses returns sadly home.
Horses are the real protagonists of the Palio: from the local churches where they receive the blessing, up to the race square. And then, the rope, the track, the curves, the finish line… The victory is attributed to the horse that reaches first the finish line, either with the jockey or "shaken", that is, without the jockey.
Chosen well in advance, the horses, usually two for each association, are followed and trained with passion by special Commissions elected within each Committee. In the end, only one will participate in the Palio. Careful veterinary visits and repeated track tests are aimed at the protection of horses and jockeys.
The historical procession is one of the peculiarities of the Palio of Asti. It is solemnly opened by the Captain of the Palio, the Magistrates and the knights. The Captain is the highest authority of the race, guarantor of the regularity of the Palio.
Then, the great parade. More than a thousand costumed figures, among the wings of a cheering crowd, relive a moment in Asti history between the twelfth and fifteenth centuries, often intertwined with European events, confirming the importance of medieval Asti. A parade with attention to every detail, which makes the Palio of Asti a unique event in the world.
Majestic and unrepeatable, it is renewed every year with new themes and new representations. The "carroccio", an ancient war chariot, pulled by three pairs of white oxen, closes the historical procession: It carries the insignia of municipal liberties and carries the Palio in procession.
Every year, 21 contenders participate in the Palio, including districts (Rioni), municipalities (Comuni) and villages (Borghi) of the Asti area, each with its own banner and the colors that distinguish it.
The districts (Rioni) are located within the oldest walls – according to the chronicler Ogerio Alfieri already existing in 1280 – called Recinto dei Nobili (Nobles' Fence).
The hamlets (Borghi) are those located outside the first medieval walls, but today included within the city limits.
The Municipalities (Comuni) admitted to the Palio have among the requisites a long continuity of participation, but above all they must include proven historical relationships with the City of Asti in medieval times.
MAP OF DISTRICTS (RIONI) AND HAMLETS (BORGHI)
RIONE SAN MARTINO SAN ROCCO
BORGO TANARO TRINCERE TORRAZZO
THE MUNICIPALITIES (COMUNI)

MUNICIPALITIES OF BALDICCHIERI

MUNICIPALITIES OF CANELLI

MUNICIPALITIES OF CASTELL'ALFERO

MUNICIPALITIES OF MONCALVO

MUNICIPALITIES OF SAN DAMIANO

MUNICIPALITIES OF MONTE CHIARO

MUNICIPALITIES OF NIZZA MONFERRATO