Moscato d'Asti D.O.C.G.
Wines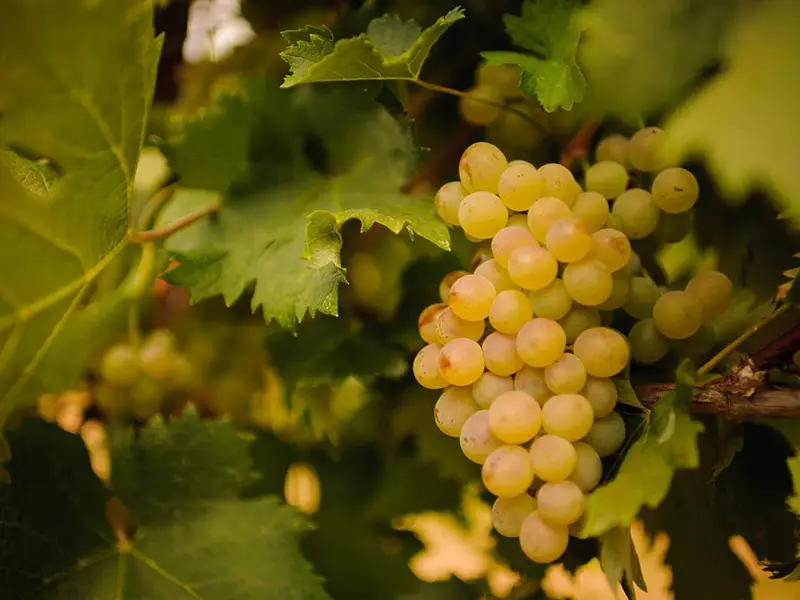 The Exquisite Piedmontese White Muscat
A tradition of over seven hundred years
The two D.O.C.G. flagship wines of Asti, Asti Spumante and Moscato d'Asti, are obtained from the Moscato Bianco vineyard with two different processing methods.
Grown between the Bormida and Tanaro rivers, in the provinces of Asti, Alessandria and Cuneo, Moscato Bianco is an ancient vine variety (the first evidence dates back to 1300) from the eastern Mediterranean basin, used to produce sweet and intensely aromatic wines. These grapes are also grown in the area between Langhe and Monferrato, where the wine tradition meets the most modern techniques for a production of international prestige.
The particular climatic and geological characteristics of the area and the calcareous soils have favored the spread of the Moscato Bianco grape on the Piedmont hills, with an extension of about 9,700 hectares and over 4,000 companies involved in the production.
The leaves are medium in size and pentagonal in shape, while the ripe bunches are cylindrical and slightly elongated. They sprout in the second decade of April, reaching the right degree of ripeness in the second half of September, when the grapes are harvested strictly by hand, to preserve their integrity and aroma.
The greenish-yellow colored berries are characterized by a thin skin and an intensely aromatic flavor.


Taste and Enjoy

Moscato d'Asti D.O.C.G
Made with the same grapes as Asti Spumante D.O.C.G., Moscato d'Asti D.O.C.G is a more refined and slightly sweeter wine, less sparkling and with a lower alcohol content.
Within the large Moscato family, the one produced in the Asti area represents the richest and most valuable version. The artisanal nature of Moscato d'Asti D.O.C.G. makes it a flagship in the Piedmontese wine scene: Often produced by small or medium-sized companies with a strong focus on quality, this wine is making a name for itself in haute cuisine and in the most fashionable wine bars.
Its fragrance and richness of character are expressed in a musky aroma, with a flavor reminiscent of wisteria and tilia, peach and apricot, with hints of lemon and orange blossom. At taste, it is full, vigorous and elegant, with a harmonious and fresh finish, delicately sweet and engaging also due to the subtle acidity.
A wine with a fruity, intense, and aromatic aroma of ripe grapes reminiscent of honey, yellow peach, mint and acacia flowers and sometimes hints of sage.
The golden color with straw-yellow reflections is characterized by a brilliant clarity and a slight sparkle, but it can also be presented in a still version.
Moscato d'Asti D.O.C.G. can be produced with the Martinotti (or Charmat) method, but is more often done through fermentation in a natural autoclave, without the addition of yeasts.


Moscato d'Asti D.O.C.G at the table
With its refined sweetness, Moscato d'Asti D.O.C.G. is ideal to accompany desserts or as an aperitif.
Served cold, ideally between 6 and 10 °C, it is excellent served at the end of a meal, perhaps combined with fresh or dry pastries, trying to avoid the combination with sweets that are too sugary, fatty or creamy. The ideal are cakes made with sponge cake, or even donuts, sablè, nougat, fruit tarts, fruit salads, biscuits, and panettone.
The combinations by contrast are also interesting, such as with aged cheeses, fresh cured meats or spicy dishes of ethnic origin. It can also be paired with meat dishes such as rabbit or Tuscan liver or, for a more surprising result, with oysters and shellfish.