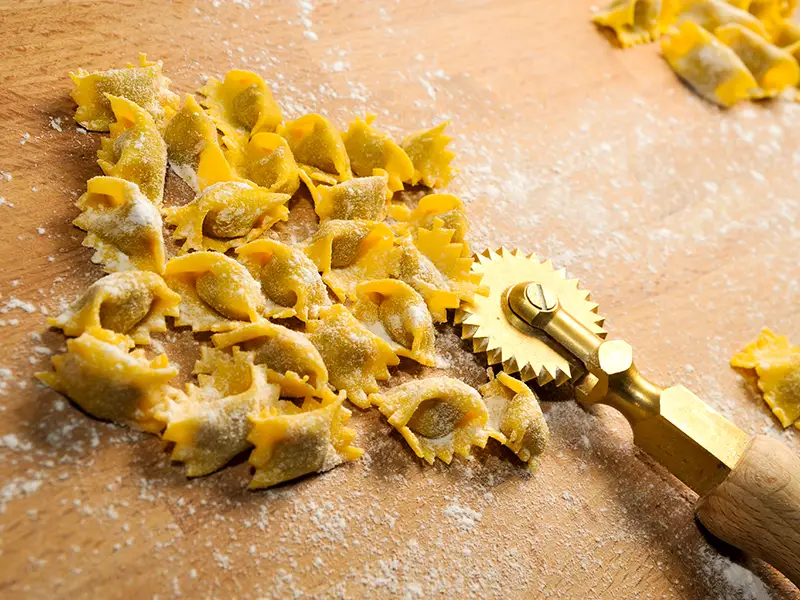 The origins of the dish
An official specialty of traditional Piedmontese gastronomy, agnolotto has very ancient origins. The first information on this type of fresh pasta can be traced back to a Ligurian notary deed of 1182.
The Accademia della Crusca will then define for the first time the distinction between agnolotti and ravioli: the first one richer in meat, the second one richer in vegetables.


The Origins of the Name
The origin of the name agnolotto is uncertain. According to a first version, the spread of this dish between the late Middle Ages and the Risorgimento was a chef named Angiolino, who transmitted his name to his personal culinary creation.
According to another interpretation, the term "agnolotto" is linked to the Piedmontese tradition of filling ravioli with lamb (in Italian, Agnello).
However, the most accredited version remains the one for which the term derives from the dialect term "anulòt", that is the horseshoe-shaped instrument that was used for the making of agnolotti.

Agnolotti of Asti
The real agnolotto of Asti is the gobbo (hunchback) one, made strictly by hand, with an elastic dough and a perfectly balanced filling between pork and veal.
In the past, the creation of this pasta involved an enormous cost in terms of money and time. Many women from the neighborhood or even from the town were hired to make large quantities of agnolotti.
Despite this, until the end of the Second World War the recipe was widely spread in all the trattorias in the country. Today, however, the complex preparation of the hunchbacked agnolotto makes it a dish that few restaurants and trattorias are able to offer.
The preparation of the agnolotti gobbi has a Municipal Denomination (De.CO.) registered with the Municipality.


The Exaltation of Taste
Agnolotti best express their flavor if accompanied by an intense red wine with a dry and pleasant taste such as Barbera d'Asti DOCG .